April is one of my favorite months.  Winter is over, and it's finally starting to green up in our area.  The pear trees are blooming and it won't be long before the cherry trees bloom out in all their beautiful pale pink glory.  Additionally, April is full of fun outdoor activities like walks, runs, plant sales, festivals, and Earth Day!  As most of you know by now, I'm a tree hugger.  I try to live green by following those three R's (Reduce, reuse, and recycle).  I want to do my part so that hopefully our world will be a better place for our children and grandchildren.
I'm always looking for cool "green" products to share with our clients.  Recently I was introduced to an everyday item that you would never really think about as being green.  An eraser!  Yes, the old fashioned blackboard eraser (works on dry erase boards too) except this one has been updated.  This eraser is made from 100% recyclable aluminum!  It has a sleek design and the ergonomic grip makes it easy to hold.   Additionally, it has a large imprint area which means your logo will be noticed.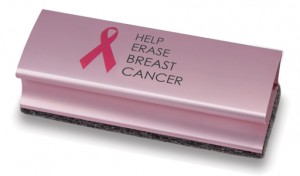 How can I use an aluminum eraser to make the world a better place while promoting my business, you ask?  Well, let me give you some ideas!
1.  Start a social-good campaign like:  Eracism, Erase Breast Cancer, Erase MS, etc.
2.  For hospitals using the eraser on a dry erase board helps to reduce the spread of germs with an easily-cleanable, hypoallergenic surface
3.  Promote education using taglines like Erase mistakes, Erase misconceptions
4.  And of course, one of my favorites:  Encouraging a green office environment:  Erase the Waste – Go Paperless or Erase the Waste, Reduce, Reuse, Recycle!
I hope this gives you some ideas for your next "Green" project.  If you would like more information on this great eraser just contact your sales representative and they will be glad to answer any questions you may have.  Enjoy April, and remember "Always think GREEN!"