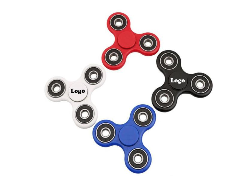 Lately, we have had several calls for logoed fidget spinners, and this morning I saw a news clip that helped me to understand why we are getting the calls.
It seems that these spinners are especially helpful to those with ADHD, autism, anxiety-related issues, or trying to stop smoking. It can also help people from biting their nails, tapping a pen or doing other fidgety tasks while they concentrate on their work.
Contact your P.O.P. Solutions Group sales representative for more information.