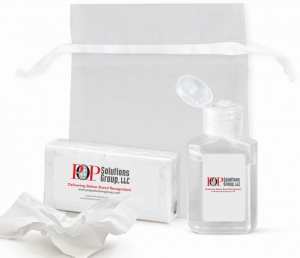 The news has been reporting high flu and cold cases. Some schools in Tennessee have even closed for several days to clean the buildings and let everyone get well before returning.
According to Dr. William Schaffner, an infectious disease specialist at Vanderbilt University Medical Center, "The best way to protect yourself is to get vaccinated and to use hand hygiene very frequently, along with avoiding people who are coughing and sneezing." (weather.com)
To help your employees and clients, we suggest you purchase some of these kits with your logo on them. The kit comes with mini facial tissues and a 1 oz. bottle of hand sanitizer gel in a mesh gift bag. Your logo in full color will be on both the tissues and the hand sanitizer.
E-mail or call your P.O.P. Solutions Group representative for more information.