Fashion expert Gabriel Rohde-Royce on the hottest trends in ladies branded apparel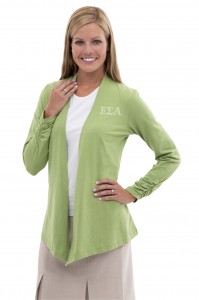 pfg:  Gabrielle, thank you so much for taking the time out of your busy schedule to chat with me about using apparel to grow your company's brand awareness.
First, can you tell us how long you have been involved in the Promotional Products Industry?
grr: Since 1999.
pfg:  What attracted you to this business?
grr: I was first introduced to the industry in 1997 when a friend suggested we consider selling our line of men's silk neckwear through promotional products distributors. At that time it was only sold in department stores, and with casual Fridays becoming the norm, we needed to expand our market for neckties.
After our first visit to the PPA EXPO that year, I was aghast to find that there were over 500 booths selling some kind of men's apparel and not a single garment sized or styled for women. We decided there was a greater need for ladies apparel than more neckties, and as a result, we exited the necktie business that year and launched the Gabrielle Rohde Royce line of ladies apparel exclusively for promotional product distributors at the EXPO in January 1999.
pfg: Do you think apparel is an important part of branding, and if so, why?
grr: Without a doubt! Branded apparel is akin to a walking, talking billboard…a fabulous vehicle to advertise a business and/or product. The most important thing is to make sure that the apparel speaks to your particular brand. A woman in a golf shirt is not a good way to sell cosmetics or jewelry. Dress your employees in apparel that you would like to see them wear without a logo and then …add a logo!
For Salespeople: It's a conversation starter and that's the first step to doing business with someone. It doesn't matter if you sell Real Estate, if you're a direct marketer, or if you sell a service.
For Employees: Logoed apparel is a great team builder; a great way to encourage appropriate dressing; the best way to identify your employees to the outside.
pfg: When should a company think about purchasing branded apparel?  For tradeshows?  Company Events?  Etc.? 
grr: Anytime it's important for the public to know who they work for, they should be wearing branded apparel. If you have employees in a medical clinic, it's important that they be easily identified. If you're selling a product – for SURE you want to be branded. Each impression of your logo counts. Imagine how many impressions your brand gets walking around in public!
pfg: You specialize with women's apparel, and one of my favorite things about your apparel besides the fashionable look, great material and construction, is that you have a great variety of sizes for each of your styles.  What made you decide to do this?
grr: Honestly? My company had a relatively small front office. There were 6 women: 1 Small, 2 medium, 1 large, 1 1X and 1 -3X and our outside insurance consultant was a 5X! How could I not be able to dress everyone? And it was partly thanks to these ladies that I learned what the typical problems were in larger sizes. We proceeded to make our own patterns without following the traditional grade rules. All the extra effort paid off. I'm told our plus sizes truly fit great.
pfg: How do you come up with your designs?
grr: I always look to retail first to see what the most wanted styles are then (and most importantly) I adapt the style specifically for our promotional products market. We consider the left chest "sacred space". There has to be ample room to decorate and have it look good and lay right after it is decorated. We also use some tricks to make long sleeves fit everyone. We make them longer and then ruche them so they fit shorter people too. In the past we had an optional fold back cuff that looks good worn either way. We're always trying to find ways to make a style fit the greatest number of people which isn't necessarily the first goal of a retail designer.
pfg: What are your three favorite pieces for this summer?
grr: Definitely the G330C open front cardigan. I love that it falls below the hip in back and that it has the long ruched cuff sleeves. It also goes over all of our shirts. I also wear the G317S short sleeve V-neck with the ruched sides often in warmer weather.   It's my "go-to piece".  It's longer than most and stays put – it doesn't ride up! Lastly is probably the G318T which is our rope neck. It has ¾ sleeves but it has a great neckline for wearing jewelry, but still has plenty of room for the logo. It can also be decorated full front.
pfg: What do you think will be the most popular color for summer?
grr: Well everyone is saying Orange is the color for 2013 and I do love our new Tangerine which comes in the boatneck. I also like Kiwi which comes in the G317S short sleeve, the G330C cardigan and the G355 crossover.
pfg: For fall/winter?
grr: I'm going to stick my neck out here and say Navy is coming back. Emerald Green is the PMS color for 2013 and navy is the natural coordinate. I'm seeing a lot more of it at retail and the real "tell" is that I'm seeing more navy shoes.  We just added navy to our two cardigans G500C and G330C and they are both selling very well. I do think navy is more often worn as a slack/skirt or cardigan/jacket than it is as a top unless you wear it with khaki's.
pfg: Can you give us any idea what's going to be new for next fall from Gabrielle?
grr:  It's a little early to say. We've a lot of success with our layering pieces so you may see a jacket. I'm not sure if we'll put it in the GRR or the GabiSport line. We've also been focused on some of our decorating ideas. I hope you've had a chance to see our fashion drops. They're printed designs we can add to any knit shirt or the G330 to make it extra special. No minimums!
pfg: Is there anything else that you would like to share with our readers?
grr: I just want to say a big thank you for all their past business. Our female customers have really appreciated our quality and our fit, and it really makes it all worthwhile for us to see women wearing logo'd apparel that looks great on them!