NEON is so HOT right now, and we are excited to announce that Sharpie has come out with ultra vivid colors which like all Sharpies will permanently mark on most surfaces. Sharpies work great on all kinds of surfaces such as paper, plastic, glass, wood and leather, and they have so many uses. SIGN UP FOR YOUR FREE SAMPLE BELOW.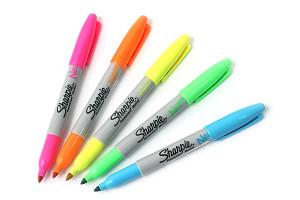 Just how do you use your Sharpie?
– Golf ball marking
– Autographs
– Yearbook signings
– Game Day give-aways for athletic events
– Mark sporting equipment
– Mark tools
– Identify moving boxes (which makes these great for realtor giveaways!)
– Label CD's
– List family members names on those wonderful photos stacked in boxes
– Mail room use
– Write on plastic sample bags
– Write your name on your water bottle
– Name badges
– Identify/label clothing
– Mark your lunchbox
– Mark binders
– Label test tubes in labs
– Identify office equipment
– Color code files
– Label warehouse shelving
– Mark on PVC pipe
– Mark on duck work
– Label parts in a manufacturing plant
– Identify coffee mug at work
– Label keys
– Label construction worker hard hats
– Mark luggage
– Mark fabric for sewing
– Write on Tyvek envelopes
– Sign the back of credit cards
– Write fun messages of encouragement on casts
– Mark on X-rays
– Mark on hospital gowns
– Write street number on mail box
– Identify plastic cusps at parties/picnics
– Make up garage sale signs
– Touch up shoe scuffs
– Label packages for mailing or shipping
– Mark toothbrushes
– Label computer wires for easier connections
– Make flash cards for the children
– Draw faces on Halloween pumpkins
– Mark aluminum foil
– Mark body parts for piercing
– Draw race # on Triathlon contestants
– Color in scratched metal
– Mark on band instruments
– Decorate youth tee shirts
– Label baby bottles for daycare
– Label baby diapers/wipes for daycare
– Coaches draw up football plays (good for outside, fast drying and water resistant!)
– Forgetful athletes can draw important plays on athletic tape
– Number lockers in locker room
– Write maintenance dates on furnace or air conditioner units
– Write dates on canned good jars
– Children write their names on the inside of Little League caps/helmets
– Label compartments of first aid kits so you know what to replace when empty
– Label storage boxes in the basement for easy identification
– Identify patient's personal belongings for extended hospital/nursing home stay
– Clearly mark bottles containing poisonous or harmful liquids
– Identify fuse/circuit breakers
– Write purchase date on back of major household appliances
– Label the metal cover of leftover paint can with the date the room was painted
– Dog kennel owners identify pen or cage numbers
– Pet owners label dishes and food bags when dropping off at the kennel
– Identify alarm systems
– Construction use – mapping out layouts and measurements
– Write your children's names on their inflatable rafts/toys for beach outings
– Use your imagination!  There are limitless uses!
Tell us how you use your favorite Sharpie and we will send you a FREE Neon Sharpie! Click here.