We're back from the fantastic ASI Orlando Show!  Our heads are spinning with great new products and ideas to help you grow your business while increasing brand awareness in 2013!  Our original plan was to present to you today our top ten list of cool and different ad specialty items for 2013, but we saw so many wonderful new products this year that we finally got it narrowed down to 12!  So here goes:

Number One
Blossom Stylus – A new pen from one of our favorite manufacturers that comes with highlighter on one end and a stylus on the other.  With just a push of a button the stylus becomes a pen.  3 in 1 – how cool is that?  It is available now in a gunmetal  chrome and a matte black finish.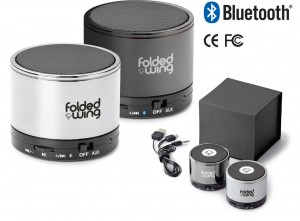 Number Two
Brynn Bluetooth Speaker – This is a nice, heavy desk item that is truly functional.    All that great music you have on your Smartphone you can now play in your office or den at home, and really hear the bass!  You can sync it with any MP3 player that has Bluetooth.  With a maximum power of 95 db you can really turn up the volume.  It has a battery life of two hours, and of course, the USB charger is included.  Additionally, it comes packaged in a lovely black two-piece gift box with a magnetic closure.   So now you can rock to your favorite music while working hard at your desk!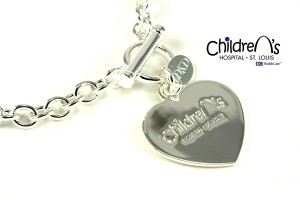 Number Three
Diane Katzman Design – We are so excited to introduce Diane Katzman to you!  Diane Katzman jewelry is custom designed, hand cast and manufactured just for you!  A custom item that's surprisingly affordable.  It's no wonder large and small businesses look to them to design products promoting their brands.  From a special necklace for a 50 year factory worker to commemorative bracelets for the Beijing and London Olympics, their pieces are beautiful, special and make a wonderful keepsake.
Diane Katzman gifts are often used in fundraising opportunities.  Susan G. Komen, the American Heart Association, and  Make-A-Wish to name just a few, turn to Diane Katzman to create meaningful jewelry, ties, scarves, bookmarks, key rings, desk accessories and awards that tug at donors' heartstrings.  A socially responsible entrepreneur with a "pay it forward" philosophy, Diane was honored in 2011 the St. Louis' Women of Achievement Award for Creative Philanthropy.
We can't wait to work with you to design your next branded special keepsake!
A couple of other great products we love from another socially and environmentally responsible organization  are recycled lunch bags made from feedbags and computer sleeves handmade by Cambodian artisans from recycled mosquito netting!  They are so great looking!   Everything is custom made, and they can make products out of other items like old bicycle parts and recycled pop-tabs.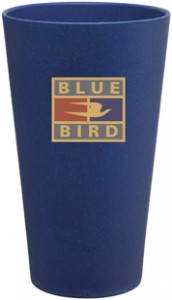 Number Five
Our new favorite drinkware piece is a tumbler made from bamboo fiber!  Keep in mind my last name is Greene, and I LOVE items that are good for the environment!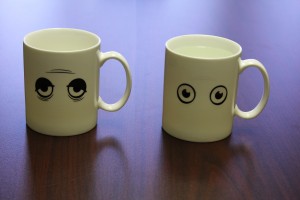 Number Six
Wake Up Cup – At the show this year, we could not get over the variety of coffee mugs available.  Our favorite pick is a new twist to an old staple, and if you have heard of the brand Fred & Friends (R), you  know that a silly item has made our list.  Just fill the 11 oz. porcelain "Wake Up Cup" with your favorite hot beverage (mine happens to be tea – Nicole's is coffee!) and watch how the cup perks up, just like you do!  Heat sensitive inks respond to hot drinks and open the eyes.
Number Seven
The Sport Quillow – We just love this ultra-soft towel.  It's highly absorbent and ultra-fast drying.  Machine washable and extremely durable, they can be used every day, and are hypo allergenic.  The fabric is highly compactable so it folds up into its own pouch that is the size of a paperback book, yet opens up to a full size towel.  I'm going to have to get one myself for my Classical Stretch daily exercise class!
Number Eight
Custom Shape Shower Gel Sponge – Who would have thought that a foam product would make our top 12 list?  Well, we are not talking about your average foam finger.  This year a top producer of foam is thinking outside the box, or should we say tub?  Remember those foam letters used in grade school for painting or bath time fun?  Now imagine a custom shaped foam piece with your company logo or mascot.  Take it one step further and imagine it with shower gel for an added touch!  Need more to love?  It's made right here in the good ole USA!
Number Nine
Corkcicle – Everyone loved this when we showed it during our staff meeting today!  Keeping your wines at just the right drinking temperatures is a great dilemma for many of us.  The answer to this perplexity?  Corkcicle!  Placed inside the bottle, it chills the wine from the inside.  Corkcicle can be washed and used again and again.  It arrives packaged in a black gift box, and is available with a natural cork or black rubber cork.  One of our favorite reasons we love this item so much is that above the cork is a customizable dome perfect for your company logo.  It is a great gift for every wine lover!
Number Ten
It's cold outside and we all love to have warm feet.  At the show we found these great slipper socks.  They are warm, fun, colorful, and best of all they are imprinted with your logo.  A special puff ink is used to both imprint a custom message and create a flexible, slip-resistant tread.  They are made from a soft terrycloth material, are machine washable, and available in a variety of colors and sizes.
Number Eleven
Reflective Snap Action Bands – We were very excited to see this new reflective band that remains flat but springs to life as you snap it on your wrist.  It's perfect for all outdoor activities and exercising.  They are ideal for schools looking to make their students safe in the early morning or going home at dusk, as well as, evening outdoor events.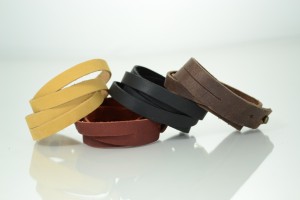 Number Twelve
Split Wrist Band – This item is from another one of our favorite manufacturers.  They make everything custom here in the USA!  This unique designed band measures .75″ x 16″ and encircles the wrist twice.  It comes with a stud closure and adjustable sizing, and is available in five different leather tones.  Rustico has made custom journals and photo albums for us for a couple of years now.  They have also made custom items for the Queen of England, as well as, the President of the United States.  They even have a journal in the Smithsonian!
For more information on any of these products or others, please contact your P.O.P. Solutions Group sales representative.