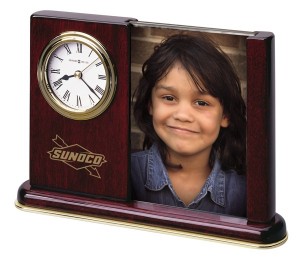 As I looked out my kitchen window this morning to another gloomy winter day, I saw a bluebird fly by.  Mr. Bluebird reminded me that Spring is just around the corner, and that we spring forward into daylight savings time at 2:00 a.m. this Sunday morning (March 10th)! 
Now a lot of us have had time on our minds lately.  Probably the fact that there never seems to be enough of it!  Saying that, we may be losing an hour this weekend, but you can gain motivation and brand recognition by gifting your employees or clients with a clock or watch.
Some quick facts:
1.  Clocks are viewed over 40 times a day!
2.  Clocks have value and longevity.
3.  Clocks and watches are ideal for individual recognition.
4.  Clocks motivate.  The gift of a clock will be proudly displayed with a high trophy appeal.
5.  Customized clocks or watches reinforce your brand with positive impressions every time it is viewed.
So think about giving a clock or watch.  It says more than thank you.  It's a tool your employees or clients will treasure for years to come and they will be on time!