P.O.P. and Ad Specialty NEWS…
You heard it here first!
---
9/5/13
LEADERSHIP GERMANTOWN PROMOTES FESTIVAL TSHIRTS
Leadership Germantown and The Germantown Festival Committee are working together to promote the 2013 Festival weekend (September 7th & 8th) with commemorative t-shirts. Leadership Germantown was looking for a fundraising opportunity to help fund their programs and their PLUS Scholarship Fund. Both organizations have a common goal of supporting local high school students with scholarships, and this was a natural fit for a joint effort. Moya Dent Leadership Germantown chairman said. "We are thrilled to be a part of promoting the Festival . It is a treasured institution that not only brings economic benefit to Germantown but also the goodwill and tradition that makes our community such a special place." The t-shirts were designed by local graphic designer, Amber Abney, and were provided by P.O.P. Solution Group. Leadership Germantown will have two booths at the Festival to sell the shirts'. They will also be offering Voter. Registration as a service to the community.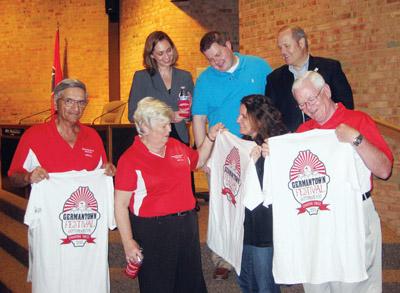 Top left: Rebecca Cullison, Nick Mulliniks
and Matt Bailey Leadership Germantown.
Bottom left: Frank Lamanna, Melba Fristick
receiving shirt from Moya Dent Leadership Germantown,
and Howard Giffin.
Published: Wednesday, August 28, 2013 6:27 AM CDT




---
7/5/13
ASI AWARDS BASIC CERTIFICATE TO KATIE GRACZYK
& ALLY GUSCETTE
Ad specialty pros earn the industry's most prestigious education award!
Katie Graczyk and Ally Guscette of P.O.P. Solutions Group, LLC have been awarded with a Bachelor of Advertising Specialty Information (BASI) certification. This is the industry equivalent of a bachelor's degree. BASI holders are recognized as industry experts who have the knowledge they need to thoroughly understand and navigate the promotional products marketplace in order to provide clients with expert brand building ideas.
"We are so proud of the graduates of the Advertising Specialty Institute Certification Program," said Timothy M. Andrews, ASI President and Chief Executive Officer. "We launched this program to provide members with the skills they need to out-think, out-perform and out-service the competition. We couldn't be happier so many members are seizing the opportunity to set themselves apart through quality education."
P.O.P. Solutions Group, LLC is a Germantown, TN company with experts in brand marketing specializing in advertising specialty products, point-of-purchase displays, print materials, fulfillment and E-Commerce. For more information go to www.popsolutionsgroup.com. The Advertising Specialty Institute (ASI) is the largest education, media and marketing organization serving the advertising specialty industry.

12/19/12
ALLYN GUSCETTE PROMOTED
Allyn (Ally) Guscette recently was promoted to Sales Representative with P.O.P. Solutions Group, LLC. Guscette started with P.O.P. Solutions Group in November 2011 working with Nicole McNamee's sales team specializing in customer service, web design and new product research. In addition to her new sales position with P.O.P. Solutions Group, Guscette is a ceramic artist, runner, and is active with several charities in the Germantown and Memphis communities. She will start Germantown Leadership training in January.
P.O.P. Solutions Group, LLC is a local Germantown, TN company with experts in brand marketing specializing in point-of-purchase displays, promotional products, and print materials.
---
11/14/12
 NEW STUDY JUST RELEASED!
Promo Products Deliver Bigger, Better Bang for Buck!
The Advertising Specialty Institute® (ASI) recently released results from a global survey proving promotional products give consumers a more favorable impression of advertisers in every international city surveyed and deliver commanding advertiser recall among 87% of all recipients – up four percentage points over 2010.
The study shows that with a cost per impression* at about half a penny, promotional products offer the best value when compared to local TV or radio, at a fraction of the production cost.  Additionally, results show promotional products are consistently popular and persistent, with most people owning about 10 items they generally keep for nearly six months, a far longer time period than any other form of advertising.
Highlights from the Global Advertising Specialties Impressions Study V.3 include:
• Cost Per Impression. In the U.S., the cost per impression of a promotional product is 0.6 cents, compared to prime-time TV and national magazines at 1.8 cents each and 0.7 cents for newspapers.
• Worldwide Wow. Over one-half (52%) of the time, products give consumers a more favorable impression of the advertiser, a trend seen in every country surveyed.
• Generating New Business. One-third of U.S. consumers say they are more likely to do business with an advertiser after getting their logoed product.
• Latino Market Magnet. At 54%, Latino consumers own the most promotional T-shirts.
• Mais Oui. Parisians are far more likely to own promotional USB drives than consumers in other cities, with 27% owning them, versus 9% of U.S. consumers.
• Safe, Healthy Cities. In Dallas and Montreal, 11% of consumers own promotional health and safety items, versus the U.S. average of 8%.
• Top 3 Products. Writing instruments (50%), shirts (43%) and bags (29%) were the most popular products by category in the U.S.
• Superior Pass-Along Value. Sixty-six percent of U.S. respondents give away unwanted items to someone else, up 15 percentage points from 2008.
• Bags are Big. In the U.S., 29% of consumers who own promo products own a promotional bag, with Asian consumers owning the most of any racial demographic.
• Voters Speak. More Independents (48%) than Republicans (44%) and Democrats (39%) have a logoed shirt at home.
• Golden Oldie. As consumers age, they're more likely to own a promotional calendar.
• In the Office. Women are more likely to own a promo desk accessory in their offices than men, by a margin of 20% to 14%.
• Cap-Tastic. White men are the most likely demographic group to own branded caps, versus 15% of African Americans and 12% of women.
• Cheers. Gen-Xers and older own more promotional drinkware than those under 35. Of 12 cities surveyed, Philadelphians love logoed mugs and glasses the most, with 21% of Philly consumers owning promotional drinkware.
• You Wear it Well. Higher wage earners are more likely to own a promotional jacket.
"Other advertising mediums interrupt or even annoy consumers, but ad specialties actually provide something useful, like a pen to write with, a shirt to wear or a calendar to pick a date," said Timothy M. Andrews, president and chief executive officer of ASI. "Not only do ad specialties make impressions on everyone who sees them, but messaging is reinforced every time the item is used. No other form of media can allow the advertiser to so closely tie a benefit to the recipient."
*Numbers derived by ASI from data provided by The Nielsen Company and ComScore Ad Metrix. Study was conducted from July through September of 2012. Interviews with consumers took place in 12 North American and European cities.
---
01/17/11
Direct Mail Facts:
---
07/06/10
Houston, Texas, supplier LandesUSA

---
03/2010
Healthcare Bill Passes with Sunshine Provisions Act

---
03/2010
FDA Bans Tobacco Companies Use of Promotional Products