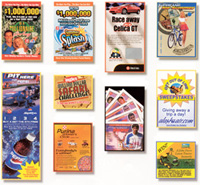 Sweepstakes
Our sweepstakes division can coordinate a sweepstakes promotion from start to finish. The sweepstakes process is utilized with our customers to stimulate trial during a new product launch, get prominent display and shelf space, cost-effectively build a qualified database, and drive traffic and sales during seasonal spending periods. The sweepstakes and contests can involve prospects with a product demo, renew interest in a lagging rewards program, and up-sell to a larger, premium and more profitable product.
P.O.P. has the capacity to make recommendations on judging guidelines, judging method, judging panel, provide copy for your advertising and contest elements, document the official contest rules including all legal tags and disclaimers required for media, packaging, POS, and mailers. Services include entry receipt, opening, pre-judging and final judging, winner contact, affidavits, prize fulfillment, publicity photo shoots and weekly activity reporting designed to fit your needs.
Win with P.O.P. by clicking here for more information.